Practical Guides
Making Rhyme boards
Basic items required
Display Board
Symbols on paper or card
Blue tack or similar to attach symbols to board
How to make
Print off files
Cut out and arrange/stick symbols cards onto board.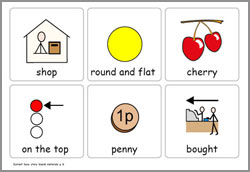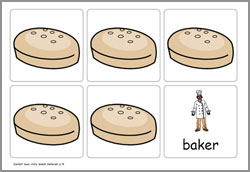 Tips for making Rhyme boards
Try not to over clutter the Rhyme Board and only use key words and symbols.
Make sure the symbols demonstrate the correct meaning of the words.
Where there are children with specific language/learning difficulties a good idea may be to keep the main vocabulary symbols in black and white as this is less distracting.
If A1 mounting board not available use:
Felt boards with symbols backed with coarse sandpaper or Velcro
Carpet off cuts or doormat backed as Felt boards
If funds are limited one master board could be used with different packs of symbols for each ryhme stored in small pouches.
If laminate pouches not available print off on paper and attach with blue-tack for disposable version, otherwise print off on card.
If laminating symbols use matt pouches as these are less reflective.
Use skirt hangers to display/use Rhyme Board.
Black boards and black Velcro look more presentable especially when moving characters around board.
A1 mounting boards and storage bags available from ESPO (Eastern Shires Purchasing Organisation) or your local educational supplier.
Finger puppets are available from various sources, such as Early Learning Centres, or can be home made.
Rhyme boards | Using Rhyme boards | Making Rhyme boards | Activity Outcomes