Practical Guides
Rhyme boards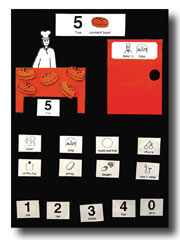 Rhyme Boards can be used to develop children's attention and listening skills, language skills, and rhyme recognition skills. They are mainly for use with Foundation Stage and Key Stage 1.
Rhyme boards:
Provide visual clues and prompts
Promote good attention
Encourage children to be actively involved
Increase expressive language
Improve rhyme recognition
They may be used with whole class or small groups of children.
What is a Rhyme Board?
A Rhyme Board is a way of teaching rhymes to a group of children using visual prompts. As the rhyme is said, symbols or objects are used to help the group understand and remember the words.
A typical Rhyme Board will include:
A set of symbols or images that support the key words in the rhyme.
A set of illustrative pictures that set the scene or allow animation of the rhyme e.g. small dolls, finger puppets, photos.
A board on which to place the above as the rhyme is told
The Rhyme may be told by the adult to a group, but also pupils can join in by adding items to the board.
Rhyme boards | Using Rhyme boards | Making Rhyme boards | Activity Outcomes