Symbols Inclusion Project (SIP)
Resources and strategies for supporting inclusion
The Symbols Inclusion Project (SIP) is a collaboration between Widgit Software and Warwickshire IDS (Integrated Disability Service) on the use of symbols to support inclusion and curriculum access. The purpose is to create genuinely inclusive learning environments for all children and young people.



FREE and low-cost Resources to download and use in your school!
Full resource list
Hundreds of symbol materials by subject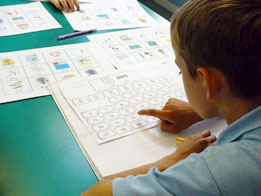 "I support a young lady in Yr 6 at a school in Warwick who has severe learning difficulties. At her last review in April she could not read any words except her first name. I had suggested for some time that they use Communicate: In Print symbols to support her. The new TA took this on board! Last week at her Year 6 annual review, the student was able to read her own responses to the pupil questions with very little prompting. She now enjoys reading and is remembering the words/symbols from day to day, which was always the difficulty behind her lack of developing a sight vocabulary. The parents were amazed and I was nearly in tears! "
Contact Us