Practical Guides
Rhyme boards Activity 1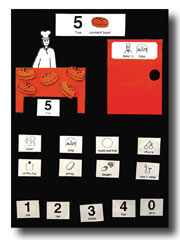 Activity/task:
Class had to listen attentively to a selection of rhyme and contribute to discussion/questioning appropriately. The follow-up activity was to re-tell the rhymes verbally to one another in small groups.
Group:
Year 1
Class of 28 Teacher and Teaching Assistant.
Literacy.
Symbols used:
Set for each rhyme that support key vocabulary 6/8 on a grid.
Pictures/background to set the scene.
Outcome:
The class attended really well because of the visual prompts and joined in with the rhyme quickly. One particular pupil with very poor attention was able to attend for longer than usual. He was also very keen at the end of the session to have a go at saying the rhyme on his own using the prompt cards. The praise he was given helped his self esteem.
Children liked using the rhyme boards on their own in small groups to say the rhymes to one another. The removable symbols helped them to physically sequence the rhyme. They enjoyed working independently.
Pupils were more easily able to repeat the rhyme with the visual prompts.
They enjoyed identifying the rhyming words.
Less confident children were encouraged to take part by the visual stimulus.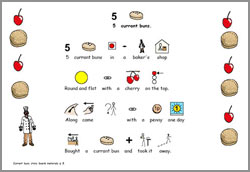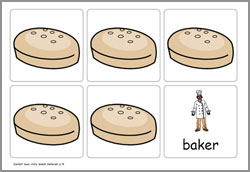 Rhyme boards | Using Rhyme boards | Making Rhyme boards | Activity Outcomes