What is produced
Output
The tangible output from the project is a large range of resources which support learners to access the curriculum.
Curriculum Resources
Resources have been made to support the curriculum for Foundation Stage, Key Stage 1, Key Stage 2 with some links to Key Stage 3, across all subjects.
Material ties in closely to schemes of work and topics schools teach as well as the Primary Frameworks for Numeracy and Literacy.
Packs have either information or story books with different levels of symbol support, activities, key vocabulary, and worksheets.
The most significant of these are: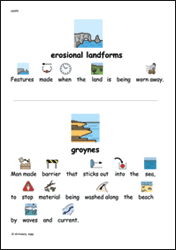 Science Support Packs for Forces and Materials from Year 1 to Yr 6
History Packs on 7 major topics including reading materials as well as activities
Literacy Packs, including a set of reading books on the Phase 2 Words, and a set of materials on 5 Traditional Stories
Foundation Stage Packs covering a range of topics such as seasonal and cross curriculum
Maths Pack, the complete set of maths symbols for the vocabulary specified in the Primary Framework for Numeracy.
Geography Pack on Rivers,Coasts and Mountains with a Key Stage 2/3 focus)

Other Resources
A range of materials and information linked to creating a Communication Friendly Environment in schools are also available.
Other resources and information support behaviour management strategies, and promote emotional and social wellbeing.
CFE booklet and pack
visual timetables
routines
reward systems
Training
The first phase of training was for DISCS teachers and TAs in Warwickshire's Designated Speech and Language Provisions (DSLP), of which there are seven across the County. This training was held at central localities, jointly planned and delivered by a Specialist Speech and Language Teacher and a Speech and Language Therapist from the Primary Care Trust.
Next came dissemination training under the Communication Friendly Environment programme, to which all schools were invited.School staff who attended the centralised CFE training were allocated a minimum of half a days free coaching to help them nurture and move forward with new ideas in their own settings.
Later on in the project a greater emphaisis was placed on delivering the training in school.This was felt to be a more effective means of implementing change. Both teachers and teaching assistants from the Speech and Language Team were trained to be able to deliver the training.
Workshop sessions on Communicate: In Print, and raising awareness about the resources have been held county wide from 2006 until the present (2011).