Practical Guides
Sentence Strips for Story Building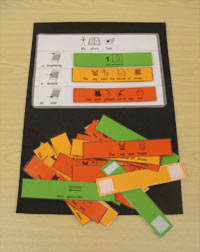 Sentence strips can be used to develop story writing skills with pupils who have difficulty constructing sentences themselves.
They can also support story sequencing and story structure.
Sentence strips:
allow pupils to be more independent in literacy
reinforce story structure - beginning, middle and end
help to develop sequencing skills through visual clues
Can be use with individuals or groups
What are sentence strips?
Sentence strips are a way of constructing stories using colour coding and visual prompts. They allow pupils to make their own story without having to generate or record the language.
Sentence strips for a story will include:
a set of colour coded symbolised sentence strips that tell a story.
One colour for the beginning part of the story and others for the middle and end.
A background board with a symbolised framework for the story to sequence the strips on.
Sentence Strips | Using Sentence Strips | Making Sentence Strips | Activity Outcomes