Models for resource development
Initial development
In the pre-project pilot phase all of the materials were generated in the school by staff from the Designated Speech and Langauge Provision, working in co-operation with class teachers. The developments were reactive to individual needs.
Phase One
Phase one focused on year 1 pupils. It looked at
engaging pupils in story telling
literacy support
literacy support across a range of curriculum areas linked to QCA schemes of work
All the content for the materials was thought up by the SIP staff, using their own experience and knowledge.
An important part of Phase One was evaluating the impact in the schools to ascertain their interest and perceived value.
Phase Two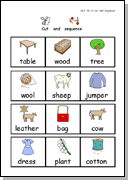 Three models of development were used in phase 2:
1. Content and implementation by SIP team:
The curriculum content was created by the SIP team, drawing on their knowledge and experience. They were also responsible for creating the resources, supported by the Widgit team. Materials developed under this model:
Science packs
Geography packs
Cross Curricular packs
Early reading books
Vocabulary support packs for Big Books
2. Content developed through Widgit: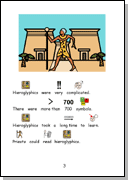 Widgit drew on the QCA documents to identify content and commissioned preparation of draft materials. The SIP team and Warwickshire teachers evaluated these materials.
History reading books
History activity packs
RE packs
3. Consultant projects:
An 'expert' in the topic is identified. The expert works with the SIP and Widgit teams together to outline a range of materials and topics of importance. In the Foundation there was no need for curriculum specific input as the Warwickshire TA and the Widgit Speech and Language Therapist had appropriate skills. Draft materials were taken back to the consultant teacher for evaluation.
The Maths pack was developed in a similar model where Widgit worked with a school outside Warwickshire to develop the symbol vocabulary. The SIP team then created the resource materials.
Future developments
It is likely that as the work in KS2 and 3 and in special schools expands, that external advice will be required.
With support from SIP and Widgit teams, the consultant input is kept to a minimum, drawing only on their expertise, not requiring preparation of materials. Drafts of symbols and materials are freely exchanged between the teams and the consultant, but the feedback style requires only a short input. The ideal arrangement is that a small amount of designated time is allocated to the expert from their school, totalling not more than two days for a specific project. This would entail two meetings at the Widgit office and then some availability for discussion with the visiting SIP team.