Evidence and Practice
Examples from schools and settings around Warwickshire
NB: Click on the images
to see larger versions
The School Environment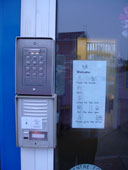 Symbolised 'welcome' and instructions for gaining access to the building.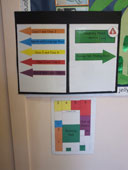 A colour coded map and arrows to help find the way round the site. An A4 colour map is given to each visitor on arrival at the school office. Feedback has been very positive about its usefullness!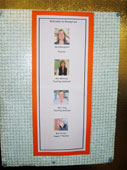 Photographs with names and a 'welcome' on the door to the Reception Class. This means that everyone knows which adults teach in the class and what their role is. This is particularly useful to visitors.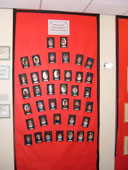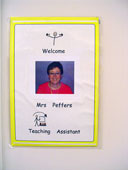 Examples of Staff Photos in the foyer of a school, and Individual Staff member in a Class.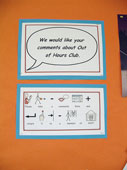 The 'Out of Hours' Club in this school symbolised their information in the same way as the school. This gave continuity to those pupils attending, and provided accessible information.
In the survey of 22 schools in 2005/6, the respondents identified the following materials they had developed to support CFE.
Signs with symbol
Map with photos of staff in the entrance foyer; photographs and names of all staff working in classrooms and offices
Signs in toilets, on children's coat pegs and in foyer
Photos on office doors, and some labels (in progress), photos on some classroom doors
Visual Support map and photographs on doors and in the entrance hall (x2)
Colour coded map in foyer with photos of staff, and photos on classroom doors. Coloured arrows to find way round site.
Signs for directions, labels and photos in foyer, corridors and classrooms
All classrooms colour coded, staff photos in entrance
Staff Photos labelled in entrance (x4)
Map in entrance hall, colour coded corridors, photographs on doors, symbolsied Fire procedures
Photographs in the entrance hall, labels to depict areas, classroom photographs and symbols on doors
Photos on doors, developing photos of dinner choice
Oak Wood Special School developed signage for the new school site using Widgit symbols
More on Oak Wood Signs

Classroom environments
Visual timetables being used in 15 schools
Behaviour reminders and individual target boards being used in 8 schools
Displays with symbol labels being used in 10 schools
Rules and instructions being used in 9 schools
Whole class use in the 7 schools which have Designated Speech and Language Bases
Labelling in the classroom being used in 11 schools